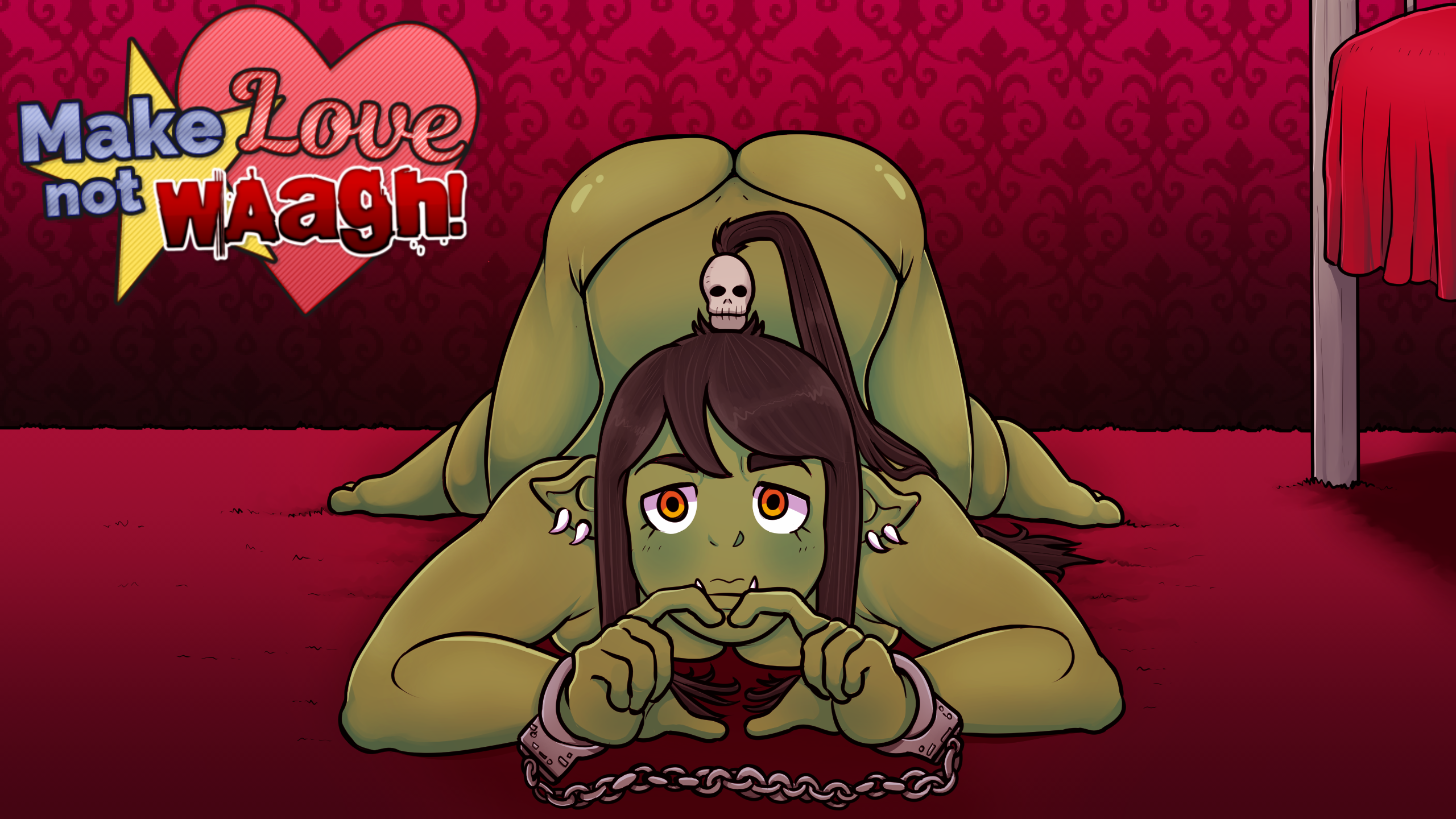 Make Love not Waagh!
Disponible en Español!!!

After an awkward one night stand. You begin a romance with Zanna Frosthammer, an orc girl. As it turns out, she works in the same building you do, as a federal government agent.

However, human/orc relationships can be challenging, for a few reasons. Can love overcome racial boundaries?
Make Love not Waagh! is a kinetic visual novel by『La Cucaracha 』Studios. The game features a cast of characters and your love interest, the orc girl in question. Written by L.L. Rodriguez and with Renpy Visual Novel Engine.
Characters
Zanna Frosthammer - An Orc Federal Agent who's been involved in numerous operations and raids. While coming from a line of powerful shamans, she never developed that special touch with the elements that an orc needs to become one and instead chose the honorable path of a warrior, which in modern times can equate to law enforcement.
Jeremy Hernandez - The Protagonist. A government IT guy whose always had bad luck with women. One morning, he wakes up with Zanna on his bed. With little hesitation, they begin a relationship.

Content Warning: Sex, BDSM and Fantasy Racism

Staff
Ponehanon (Main Artist)
Patreon (Please Consider giving him patronage)
Bunnyvoid (Background Artist)
Shinasty (Background Artist)
https://www.artstation.com/shinasty

Logo by ds-sans
Soub (Colorist of two big CGs)
http://soubriquetrant.tumblr.com/

Music by Eric Maytas, Bensound and the Feichter Brothers
"Licor de Café" by Malaclypse the Younger
Editing by BrainDenal
Spanish version and programming help by Minute Studios
GUI by velvetiquegames
L.L. Rodriguez (Writer and head of 『La Cucaracha』 Studios)
Download
Download
MakeLovenotWaagh-1.2-pc.zip
373 MB